Harpenden Choral Society has an established reputation for high quality performances with professional soloists and orchestras. We give four concerts a year including a carol concert and hold an open workshop or 'Come and Sing' event once a year. Most of our concerts are in the Harpenden area. Since our formation in 1975 the choir has grown from strength to strength and our repertoire now includes most of the major choral works as well as some lesser-known works and contemporary pieces.
---
HARPENDEN CHORAL SOCIETY FORTHCOMING EVENTS
COME AND SING
Saturday 4th February 2023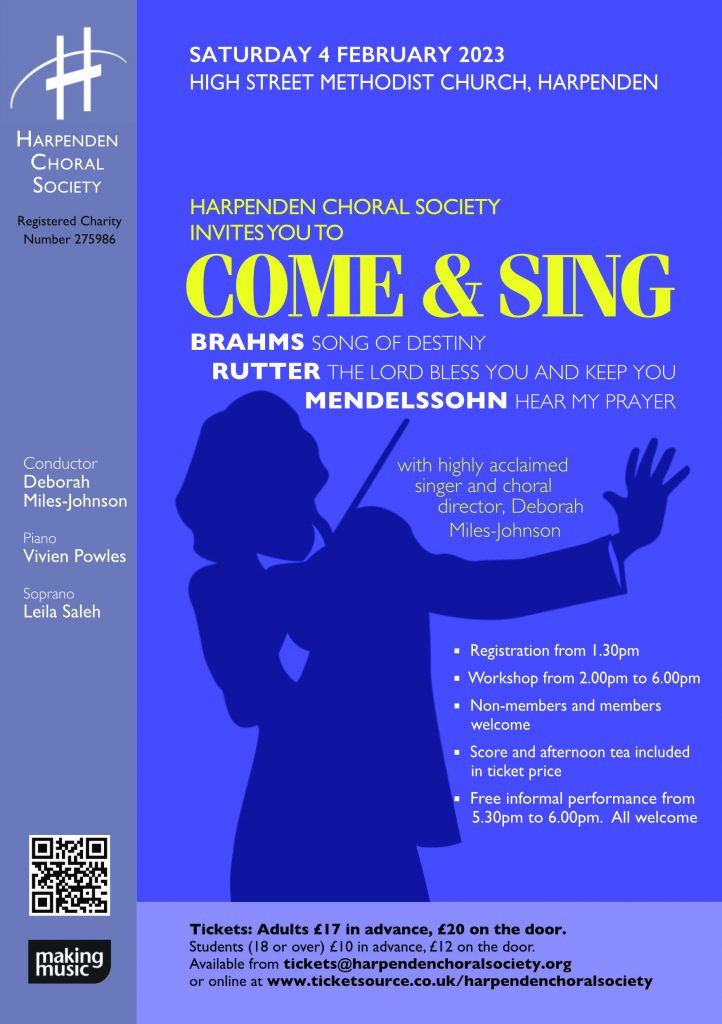 Join Harpenden Choral Society and Deborah Miles-Johnson for an exhilarating 'Come and Sing' of some true choral classics. 
Come and enjoy the opportunity to benefit from the vast experience and easy style which has made Deborah so much in demand. Singers of any age and experience will receive vocal help and encouragement and leave feeling invigorated and more confident of their abilities.
Registration is from 1.30pm and scores will be provided. The workshop will start at 2.00pm and run until 6.00pm with a break for afternoon tea. We will be joined by Soprano Leila Saleh for an informal performance for friends and family at 5.30pm.
Please discuss any questions or dietary requirements with the Membership Secretary by email membership@harpendenchoralsociety.org or by telephone on 01582 769854.
DEBORAH MILES-JOHNSON enjoys an international freelance career as a mezzo-soprano with many prestigious performances and recordings to her name. She began as a staff member of the BBC Singers and subsequently sang with the Tallis Scholars and The Sixteen. She has been a member of the Extra Chorus at the Royal Opera House, Covent Garden and also sung on the soundtrack of many major Lord of the Rings and Star Wars. For many years, Deborah was the vocal coach to many London-based choirs and also conducts two choirs of her own. As a result, she is much in demand for her workshops where she is highly successful in improving general technique and choral sound. See her website www.miles-johnson.co.uk
---