Harpenden Choral Society has an active and committed membership of about 75 singers.  We are keen to welcome new members as we make exciting plans for next season.
We would like to recruit new members in all voice sections. You can be sure to find challenge and inspiration as well as having great fun singing with a friendly group of people.  We are also able to offer free singing lessons to new joiners under the age of 30. Reduced subscriptions are available to those under 30, full-time students and anyone in receipt of income-related benefits.
As a member you will have the opportunity to:
perform a wide range of works, with four concerts a year (to see our repertoire click here)
perform with professional soloists and orchestral players
develop your musical skills and vocal technique under the guidance of our regular conductor and visiting specialist coaches
join in social events and make new friends
take part in the roles and activities involved in running the society
Rehearsals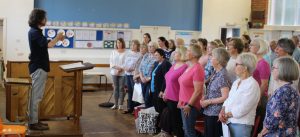 We rehearse on Tuesday evenings from 8pm to 10pm in the United Reformed Church, Vaughan Road, Harpenden AL5 4HA.  We meet from the beginning of September to the end of June with a break at Christmas and Easter.
Rehearsals are taken by professional musicians, usually our Musical Director, John Andrews, and occasionally by guest conductors or vocal specialists. A basic ability to read music is necessary to follow the scores but you don't need to have any previous experience of choral singing. Our Musical Director holds a short voice test with each applicant (nothing too daunting) before membership is confirmed.
Subscriptions
The annual membership subscription is £200, which can be paid in instalments. We also offer subsidised membership fees of £50 to under-30s, full-time students and those in receipt of income-related benefits.  Free singing lessons are offered to new joiners under the age of 30.
Contact
If you are interested in joining us please contact our Membership Secretary to discuss coming along to a rehearsal: membership@harpendenchoralsociety.org
An open rehearsal will be held on Tuesday 12th September 2023.  Please contact the Membership Secretary if you would like to come along and give it a try. Scores will be provided.