CHRISTMAS CAROLS FOR CHOIR AND ORCHESTRA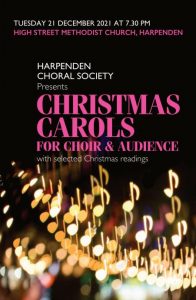 TUESDAY 21 DECEMBER 2021 at 7.30 pm
HIGH STREET METHODIST CHURCH, HARPENDEN AL5 2RU
Harpenden Choral Society is delighted to present a festive Christmas Carol Concert. Conducted by John Andrews and accompanied by organist Roger Carter, the concert will feature many traditional favourites for both choir and audience. The concert will also include Morten Lauridsen's O Magnum Mysterium and specially chosen readings from members of the choir
This year's appeal and retiring collection will be in aid of OneYMCA. Based in Watford, OneYMCA provide hostels for the homeless in Watford, Welwyn Garden City and Bishops Stortford. They provide up to 500 beds a night together with a variety of associated services such as youth counselling.
Tickets are £10 for adults and £3 for children and students.  Tickets are available at Creature Comforts, Vaughan Road, Harpenden AL5 4EF or through Box Office Manager Tricia Beavis on 01582 419379; by email to tickets@harpendenchoralsociety.org or online at www.ticketsource.co.uk/harpendenchoralsociety
Ticket numbers will be limited to allow for social distancing.
Our Rehearsals
When: Every Tuesday
We welcome members in all sections SATB.
Should you wish to join us, please contact:
T: Marion Oxley on 01582 832900
E: membership@harpendenchoralsociety.org
Find out more: JOIN US >>>
Become a Friend/Patron
Our sponsors, Friends and Patrons give us vital financial and practical help. To find out how to become one of our supporters click here.
You can also support us when you shop online. Click on Easy Fundraising logo below, or on the link to Amazon Smile and purchase from retailers who will make a donation to the choir as a thank you for shopping with them. It won't cost you anything.


Follow us on social media