Harpenden Choral Society has an established reputation for high quality performances with professional soloists and orchestras. We give four concerts a year including a carol concert and hold an open workshop or 'Come and Sing' event once a year. Most of our concerts are in the Harpenden area. Since our formation in 1975 the choir has grown from strength to strength and our repertoire now includes most of the major choral works as well as some lesser-known works and contemporary pieces.
---
HARPENDEN CHORAL SOCIETY FORTHCOMING EVENTS
CONCERT
Saturday 18th June 2022 at 7.30pm
High Street Methodist Church, Harpenden AL5 2RU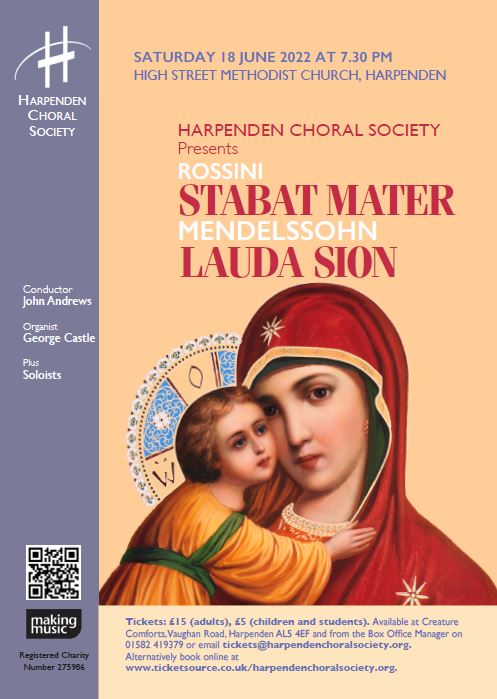 Rossini's Stabat Mater is suffused with lyrical melodies, colourful harmonies, and dramatic moments, delivered by four soloists and the chorus as they unfold the story of the Virgin Mary at the Crucifixion of her son. The subject is indeed sorrowful, but the listener is uplifted by the sincerity and beauty of the music. When it was performed for the first time in 1841, it was an enormous success. It succeeded because Rossini brought to this poem of grief & suffering all his skills as a composer of opera.
Mendelssohn composed Lauda Sion in 1846 for the six-hundredth anniversary of the creation of the Feast of Corpus Christi. Mendelssohn was busy composing his great oratorio Elijah when he received the commission for this work, but he was a workaholic and produced this gem of a composition, full of melody and with the clean classical elegance which is the hallmark of Mendelssohn's music.
This final concert of the season will be conducted by the choir's Musical Director, John Andrews, and will feature professional soloists Soprano Jeni Bern, Mezzo-soprano Olivia Ray, Tenor Thomas Raskin, Bass Felix Kemp and will be accompanied by organist George Castle.
Tickets
Adults £15, Children and Students £5
Available from
tickets@harpendenchoralsociety.org
01582 462024
www.ticketsource.co.uk/harpendenchoralsociety
or Creature Comforts, Vaughan Road, Harpenden AL5 4EF
Cash only tickets on the door but advance booking recommended
---
OPEN REHEARSAL
Tuesday 13th September 2022 at 8.00pm
United Reformed Church, Harpenden
CONCERT
Saturday 19th November 2022 at 7.30pm
Handel: Messiah
High Street Methodist Church, Harpenden
CONCERT
Tuesday 20th December 2022 at 7.30pm
Christmas Carol Concert
High Street Methodist Church, Harpenden