Harpenden Choral Society has an established reputation for high quality performances with professional soloists and orchestras. We give four concerts a year including a carol concert and hold an open workshop or 'Come and Sing' event once a year. Most of our concerts are in the Harpenden area. Since our formation in 1975 the choir has grown from strength to strength and our repertoire now includes most of the major choral works as well as some lesser-known works and contemporary pieces.
---
HARPENDEN CHORAL SOCIETY FORTHCOMING EVENTS
CONCERT
Saturday 24 June 2023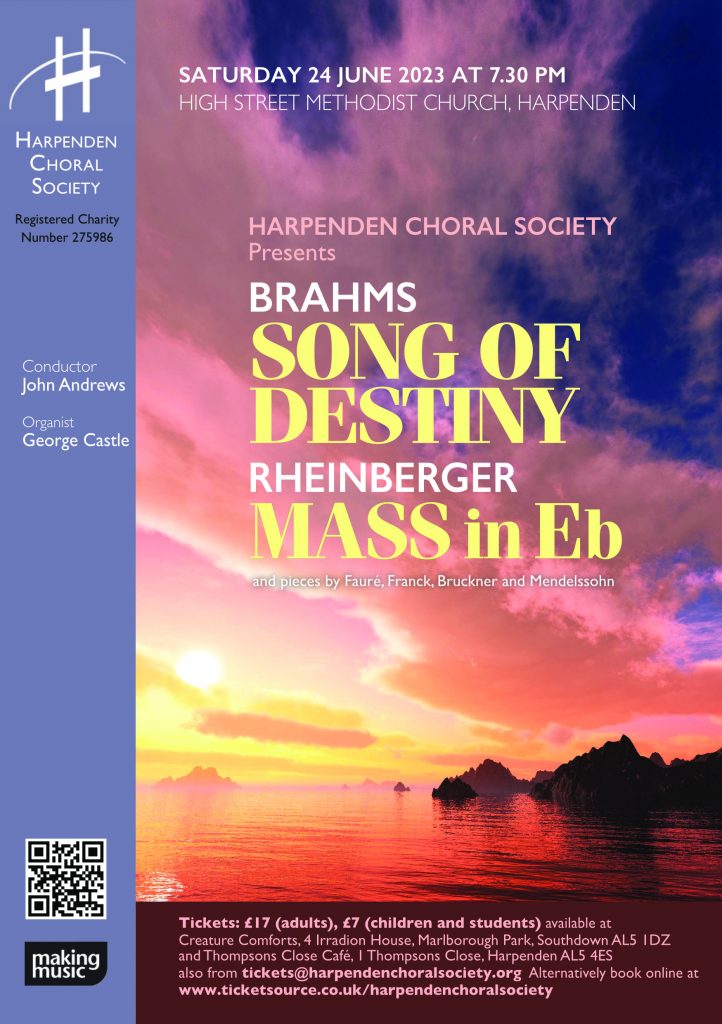 Harpenden Choral Society's summer concert will include Brahms' Song of Destiny and Rheinberger's Mass in Eb together with some shorter pieces including Faure's Cantique de Jean Racine, Franck's Panis Angelicus, Bruckner's Locus Iste and Mendelssohn's Verleih uns Frieden. The concert will be conducted by the choir's Musical Director, John Andrews, and will accompanied by George Castle on the organ.
Tickets are £17 for adults and £7 for children and students. Tickets are available from the Box Office Manager by email tickets@harpendenchoralsociety.org or online at www.ticketsource.co.uk/harpendenchoralsociety
Schicksalslied – Song of Destiny – originated in Friedrich Hölderlin's novel Hyperion, written in the final decade of the eighteenth century. Johannes Brahms discovered the poem in 1868 and began work on setting it to music, completing it in 1871. Although it is relatively short – some sixteen minutes – it is one of Brahms's finest compositions. The first half, serene, beautiful, suffused with lush harmonies, depicting the world of the gods, gives way to a tempestuous, apocalyptic second half which represents the fate of humanity. Brahms could not quite bring himself to end like that, so he added an instrumental postlude, recalling the opening section!
Elegant and refined, beautiful and moving, Josef Rheinberger's Mass Op. 109 is an eight-part setting of the very highest quality, which leaves the listener wondering how it is that this music is not more widely known and performed. Composed in 1878, when Rheinberger was age 49 and an established academic and teacher of music, the mass is one of four written for a cappella choir. Eight vocal lines, each as important melodically as the others, are woven contrapuntally into a work which draws upon the music of Palestrina, Lotti, J S Bach, Mozart and Beethoven, with restrained touches of late Romantic harmony.
---
FUTURE EVENTS
OPEN REHEARSAL
TUESDAY 12th SEPTEMBER 2023 8:00pm
United Reformed Church, Harpenden
CONCERT
SATURDAY 18th NOVEMBER 2023 7:30pm
Handel: Dixit Dominus
Scarlatti: St Cecilia Mass
High Street Methodist Church, Harpenden
CONCERT
TUESDAY 19TH DECEMBER 2023 7:30pm
Christmas Carol Concert
High Street Methodist Church, Harpenden