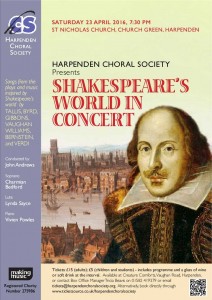 Saturday 23rd April, 7:30pm
St Nicholas Church, Harpenden
Harpenden Choral Society presents:
Shakespeare's World in Concert
A special celebration of the work and influence of Shakespeare including pieces by Tallis, Byrd, Gibbons, Vaughan-Williams and Rutter
Harpenden Choral Society will be performing a very special concert on 23 April.  Shakespeare's World in Concert includes settings of songs from the works of Shakespeare and Shakespeare's contemporaries as well as featuring other music inspired by the Bard.
From the compelling intricacies of Elizabethan madrigals to Bernstein's lyrical re-imagining of Romeo and Juliet – West Side Story – and selections from Verdi's magnificent operatic version of Macbeth, this concert celebrates the musical variety and influence of Shakespeare's world.
Shakespeare's Word in Concert is part of Harpenden Choral Society' 40th anniversary concert season.  Musical Director John Andrews, conducts, with piano accompaniment by Vivien Powles and solos by soprano Charmian Bedford and lutenist Lynda Sayce.
This promises to be a fantastic evening of music not to be missed – tickets are on sale now.
Tickets are £15 (adults), £5 (students and children) which includes programme and a glass of wine or soft drink at the interval.   Contact Box Office Manager, Tricia Beavis, 01582 419379/  tickets@harpendenchoralsociety.org
Or book online at ticketsource.co.uk
---
Harpenden Choral Society homepage
HCS Concert Programme 2015/16 Season
---